Kristen Upson, PhD, MPH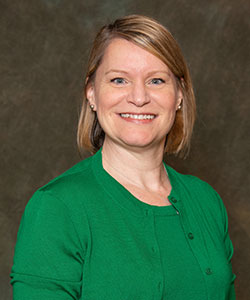 Assistant Professor of Epidemiology and Biostatistics
Department of Epidemiology and Biostatistics
909 Wilson Road Room B601
East Lansing, MI  48824
517.353.8623
upsonkri@msu.edu
Postdoctoral fellow, National Institute of Environmental Health Sciences, NIH
PhD, Epidemiology, University of Washington
MPH, Epidemiology, University of Washington
BS, Biology, University of Minnesota-Twin Cities
BS, Nursing, University of Wisconsin-Madison
As an epidemiologist, my research intersects the fields of women's reproductive health and environmental health. The common theme throughout my academic research career is a commitment to investigating outcomes that have a substantial impact on the quality of women's lives, but where large gaps in knowledge remain. I am currently supported by a K99/R00 Pathway to Independence Award from the National Institute of Nursing Research to investigate the interplay between health status and the body's absorption of toxic metals as well as the role of toxic metals on uterine fibroid risk in reproductive-age African-American women. My research program also focuses on environmental risk factors for endometriosis and the impact of exposures during early critical windows of development on reproductive health in adulthood, including the development of endometriosis, uterine fibroids, diminished ovarian reserve, and menstrual disorders.
I am currently an Associate Editor for the journal Human Reproduction and serve as a Junior Ambassador for the World Endometriosis Society.
SELECTED PUBLICATIONS
1. Upson K, Chin HB, Marsh EE, Baird DD. Intrauterine, infant, and childhood factors and ovarian reserve in young African American women. J Womens Health. 2019 Jan 14 [Epub ahead of print].
2. Upson K, Adgent MA, Wegienka G, Baird DD. Soy-based infant formula feeding and menstrual pain in a cohort of women aged 23-35 years. Human Reproduction. 2019 Jan 1; 34(1): 148-154.
3. O'Brien KM, Upson K, Buckley JP. Lipid and creatinine adjustment to evaluate health effects of environmental exposures. Current Environmental Health Reports. 2017 Mar; 4(1):44-50. PMCID: PMC5323273
4. Upson K, Harmon QE, Laughlin-Tommaso SK, Umbach DM, Baird DD. Soy-based infant formula feeding and heavy menstrual bleeding among young African American women. Epidemiology. 2016 Sept; 27(5): 716-25. PMCID: PMC5425950
5. Jukic AM, Upson K, Harmon QE, Baird DD. Increasing serum 25-hydroxyvitamin D (25(OH)D) is associated with reduced odds of long menstrual cycles in a cross-sectional study of African-American women. Fertility & Sterility. 2016 Jul; 106(1):172-179.e2. Epub 2016 Mar 18. PMCID: 4930882
6. Upson K, Harmon QE, Baird DD. Soy-based infant formula feeding and ultrasound-detected uterine fibroids among young African American women with no prior clinical diagnosis of fibroids. Environmental Health Perspectives. 2016 Jun; 124(6):769-75. Epub 2015 Nov 13. PMCID: PMC4892927
7. O'Brien KM, Upson K, Cook NR, Weinberg CR. Environmental chemicals in urine and blood: Improving methods for creatinine and lipid adjustment. Environmental Health Perspectives. 2016; Feb; 124(2):220-7. Epub 2015 Jul 24. PMCID: PMC4749084
8. Baird DD, Harmon QE, Upson K, Moore KR, Barker-Cummings C, Baker S, Cooper T, Wegienka G. A prospective, ultrasound-based study to evaluate risk factors for uterine fibroid incidence and growth: Methods and results of recruitment. Journal of Women's Health. 2015 Nov; 24(11):907-15. Epub 2015 Sep 3. PMCID: PMC4649767
9. Upson K, Sathyanarayana S, Scholes D, Holt VL. Early-life factors and endometriosis risk. Fertility and Sterility. 2015 Oct; 104(4): 964-971. EPub 2015 Jul 26. PMCID: PMC5328429
10. Upson K, Sathyanarayana S, De Roos AJ, Koch HM, Scholes D, Holt VL. A population-based case-control study of urinary bisphenol A concentrations and risk of endometriosis. Human Reproduction. 2014 Nov; 29(11):2457-64. Epub 2014 Sept 9. PMCID: PMC4191453
11. Upson K, Silver RM, Greene RA, Lutomski JR, Holt VL. Placenta accreta and maternal morbidity in Ireland, 2005-2010. Journal of Maternal-Fetal and Neonatal Medicine. 2014; Jan; 27(1):24-9. Epub 2013 May 30. PMID: 23638753
12. Upson K, De Roos AJ, Thompson ML, Sathyanarayana S, Scholes D, Holt VL. Organochlorine pesticides and risk of endometriosis: Findings from a population-based case-control study. Environmental Health Perspectives. 2013; Nov-Dec; 121(11-12):1319-24. Epub 2013 Sep 17. PMCID: PMC3855515
13. Upson K, Sathyanarayana S, De Roos AJ, Scholes D, Dills R, Holt VL. Phthalates and risk of endometriosis. Environmental Research. 2013; Oct; 126:91-7. Epub 2013 Jul 25. PMCID: PMC3905445