Honglei Chen, MD, PhD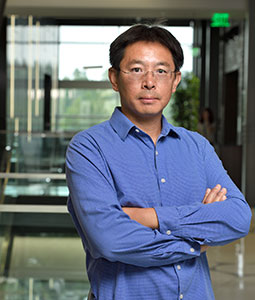 MSU Foundation Professor of Epidemiology and Biostatistics
Department of Epidemiology and Biostatistics
909 Wilson Road Room B601
East Lansing, MI  48824
517.353.8623
chenho19@msu.edu
Dr. Chen is a Professor at the Department of Epidemiology and Biostatistics of Michigan State University. His research focuses on neurodegenerative diseases with the ultimate goal of disease prevention.
PRIMARY RESEARCH INTERESTS 
Environment and genetic risk factors for Parkinson's disease: Genes and environmental factors, alone or in combination, contribute to the pathogenesis of Parkinson's disease. Over the past decade, Dr. Chen's research has contributed to a better understanding of the role of environmental factors in Parkinson's etiology.
Prodromal neurodegeneration: Parkinson's disease and dementia may take decades to develop, and by the time of diagnosis, is generally too far gone to intervene. Over the past decades, it has become clear that various nonspecific symptoms (e.g., poor olfaction) may develop years, if not decades, before disease's clinical diagnosis. Dr. Chen analyzes these prodromal symptoms with two important goals: first to characterize populations at-risk, and second to identify factors that either initiate or perpetuate disease prodromal pathogenesis.
Potential health implications of poor olfaction in older adults: Besides Parkinson's disease and dementia, poor olfaction in older adults has been robustly linked to higher mortality. When we examined how much of this could be explained by neurodegenerative diseases, we found only ~22%. This suggests most of the health consequences of poor olfaction in older adults remain unknown. Given the high prevalence of poor olfaction in older adults, we are interested in assessing its potential profound health implications.
MAJOR RESEARCH PROJECTS
Airborne pollutants as triggers of Parkinson's Disease via the olfactory system- This is a multi-PI project supported by the US Department of Defense (9/2017-8/2022). In this project, Dr. Chen and his team have objectively assessed the sense of smell of ~3,400 women, ages 50-79, from the NIEHS Sister Study. The primary goal of this project is to assess the roles of air pollutants in olfactory impairment and their relevance to Parkinson's disease.
Pesticides, olfaction, and neurodegeneration among US farmers- In this R01 project (2/2019 – 1/2024), we aim to investigate the roles of pesticides in olfaction impairment and their relevance to prodromal neurodegeneration. We will first objectively test the sense of smell of ~2,400 farmers from the Agricultural Health Study and then conduct in-home clinical assessments for ~450 farmers to assess cognitive and motor symptoms.
Poor olfaction in older adults - Chen is also interested in identifying risk factors and potential health implications of poor olfaction in older adults. He conducts this research in two well-established population-based cohorts – the Atherosclerosis Risk In Communities Study and the Health ABC study.
With these valuable and complementary resources, Dr. Chen aims to decipher the codes of poorly understood poor olfaction, prodromal neurodegeneration, and beyond.
BIOGRAPHY
Dr. Chen earned his M.D. from TianJin Medical University in TianJin, China, and Master's degree from the Chinese Academy of Preventive Medicine in Beijing, China. In 2001, he earned his Ph.D. in Nutritional Epidemiology from Tufts University in Boston, MA, and then worked as a Research Fellow and Instructor at the Harvard School of Public Health. From 2005-2016, Dr. Chen worked at the Epidemiology Branch of the National Institute of Environmental Health Sciences and received his Tenured Senior Investigator appointment from NIH in 2013.  
PRESS RELEASE
SELECTED PUBLICATIONS
Yuan Y, Luo Z, Li C, Pinto JM, Shiroma EJ, Simonsick EM, Chen H: Poor olfaction and pneumonia hospitalisation among community-dwelling older adults: a cohort study. May 21, 2021, 2(5): e275
Liu B, Luo Z, Pinto JM, Shiroma EJ, Tranah GJ, Wirdefeldt K, Fang F, Harris TB, Chen H. Relationship Between Poor Olfaction and Mortality Among Community-Dwelling Older Adults: A Cohort Study. Ann Intern Med. 2019 May 21;170(10):673-681. doi: 10.7326/M18-0775. Epub 2019 Apr 30. PubMed PMID: 31035288.
Shrestha S, Kamel F, Umbach DM, Freeman LEB, Koutros S, Alavanja M, Blair A, Sandler DP, Chen H. High Pesticide Exposure Events and Olfactory Impairment among U.S. Farmers. Environ Health Perspect. 2019 Jan;127(1):17005. doi:10.1289/EHP3713. MID: 30648881.
Palta P, Chen H, Deal JA, Sharrett AR, Gross AL, Knopman D, Griswold M, Heiss G, Mosley TH. Olfactory Function and Neurocognitive Outcomes in Old Age: the Atherosclerosis Risk in Communities Neurocognitive Study (ARIC-NCS). Alzheimers Dement 2018 pii: S1552-5260(18)30073-6. doi: 10.1016/j.jalz.2018.02.019. PMID: 29605223
Chen H,

Shrestha S, Huang X, Jain S, Guo X, Tranah GJ, Garcia ME, Satterfield S, Phillips C, Harris TB; Health ABC Study. Olfaction and incident Parkinson disease in US white and black older adults.

2017 Sep 6. pii: 10.1212/WNL.0000000000004382. PMID: 28878051.

Dong J, Pinto JM, Guo X, Alonso A, Tranah G, Cauley JA, Garcia M, Satterfield S, Huang X, Harris T, Mosley TH Jr, Chen H. The Prevalence of Anosmia and Associated Factors Among U.S. Black and White Older Adults. J Gerontol A Biol Sci Med Sci. 2017 Aug 1;72(8):1080-1086. doi: 10.1093/gerona/glx081. PMID: 28498937. 
Liu R, Young MT, Chen JC, Kaufman JD, Chen H. Ambient Air Pollution Exposures and Risk of Parkinson Disease. Environ Health Perspect. 2016 Nov;124(11):1759-1765. Epub 2016 Jun 10. PMID: 27285422; PMC5089873.
Alonso A, Huang X, Mosley TH, Heiss G, Chen H. Heart rate variability and the incidence of Parkinson's disease: the ARIC study: Ann Neurol. doi: ;77(5):877-83. doi: 10.1002/ana.24393, 2015. PMID: 25707861
Liu R, Umbach D, Peddada S, Tröster AI, Huang X, Chen H. Potential sex differences in non-motor symptoms in early drug-naive Parkinson disease: Neurology, 2015, P

MID: 25925983

Fang F, Wirdefeldt K, Jacks A, Kamel F, Ye W, Chen H. CNS Infections, sepsis, and the risk for Parkinson's disease. Int J Epidemiol. 41(4):1042-9. 2012; PMID: 22523201; PMC3429872
Chen H,

Huang X, Guo X, Mailman RB, Park Y, Kamel F, Umbach DM, Xu Q, Hollenbeck A, Schatzkin A, Blair A. Smoking duration, intensity, and risk of Parkinson disease.

2010;74(11):878-84. PMID: 20220126; PMC2836869.

Xu Q, Park Y, Huang X, Hollenbeck A, Blair A, Schatzkin A, Chen H. Physical activities and future risk of Parkinson disease. Neurology. 2010;75(4):341-8. PMID: 20660864; PMC2918886.

Chen H, Jacobs E, Schwarzschild MA, McCullough ML, Calle EE, Thun MJ, Ascherio A. Nonsteroidal antiinflammatory drug use and the risk for Parkinson's disease. Ann Neurol. 2005;58(6):963-7. PMID: 16240369

Chen H, Zhang SM, Hernán MA, Schwarzschild MA, Willett WC, Colditz GA, Speizer