Department Events & Meetings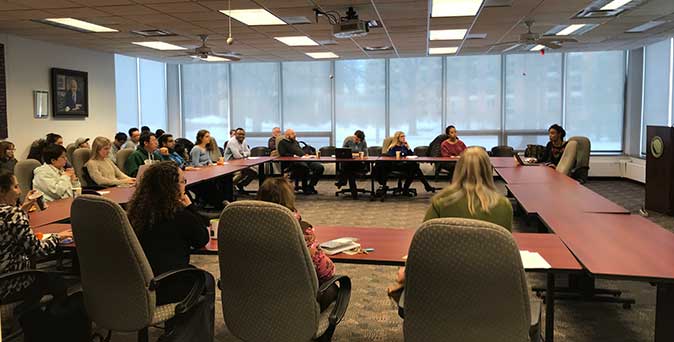 Below is a listing of different events/meetings that are occurring throughout the department. All students, faculty and staff are welcome to attend.
CHANGES DUE TO THE CORONAVIRUS
Times of meetings may change due to COVID-19. If you need information about being part of a particular meeting contact the person listed below for the meeting day, time and video web link or send an email to epi.info@msu.edu
---
DEPARTMENT EVENTS
GRADUATE STUDENT ORIENTATION 
occurs toward the end August - just before classes begin 
Graduate Student Orientation - Monday, August 22, 8:00 a.m. - 12:00 p.m.
DEPARTMENT PICNIC
(for students, faculty, staff and their families - September of each year)
Friday, September 16  4:00 - 7:30  Hartrick Park, Okemos 
(more information coming in August)
DEPARTMENT SEMINAR SERIES
STUDENT DEFENSES
occur throughout the year
---
DEPARTMENT MEETINGS
FACULTY MEETINGS
The first Thursday of the month from September 3rd 2020 through May 6th, 2021
3:00 p.m. in the West Conference Room
PIE MEETINGS (ALL DEPARTMENT EMPLOYEES) POSTPONED UNTIL FURTHER NOTICE
The first Thursday of the month 2:30 p.m. in West Conference Room
BIOSTATISTICS FACULTY MEETINGS
The third Thursday of the month, 3:30-5, West Conference Room, unless otherwise scheduled
CEREBRAL PALSY RESEARCH GROUP
led by Nigel Paneth. Discussion of cerebral palsy and perinatal/pediatric research topics.
Faculty, grad students, alumni, postdocs, med students, and undergrads interested in CP research are welcome to join in person and by zoom.
Meets first Monday of every month 11-12 noon through Zoom.
To participate and for schedule information, please contact

 

Madeleine Lenski
NEURO AND AGEING EPIDEMIOLOGY
"Projects for neurodegenerative diseases; methodologies for different research designs."
Fridays from 1:00 p.m. - 2:30 p.m.
West Conference Room
Dr. Honglei Chen

 

contact person for this group
Graduate Epidemiologist and Biostaticians at MSU Student Organization
(events and activities for Graduate Students of the department)
PhD JOURNAL CLUB 
Open to everyone
Meets Fridays 11am- Noon
The Quantgen lab meetings are weekly presentations of projects and papers on analysis and prediction of complex traits and diseases using genetic and environmental information; on methods, software development and applications, and plant and animal breeding.