Debra Furr-Holden, PhD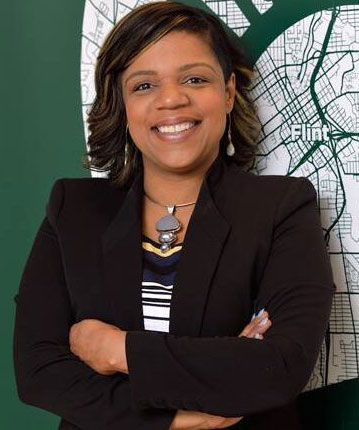 Professor of Epidemiology and Biostatistics
C.S. Mott Endowed Professor of Public Health
Associate Dean for Public Health Integration
Director of the Flint Center for Health Equity Solutions
Education
Johns Hopkins Bloomberg School of Public Health, PhD, 1999
Johns Hopkins University Krieger School of Arts and Sciences, BA Natural Sciences and Public Health, 1996
Email: holdenc3@msu.edu
Phone: 810-600-5668
Debra Furr-Holden, PhD, is an epidemiologist and classically trained public health professional with expertise in health disparities and health equity, drug and alcohol dependence epidemiology, psychiatric epidemiology, and prevention science.
Furr-Holden works with local and national policymakers to improve data-driven decision-making across a broad range of health topics to mandate equity in all policies.
With the onset of the coronavirus pandemic, Furr-Holden's expertise led to government task force appointments to address public health needs during the crisis including the Michigan Coronavirus Task Force on Racial Disparities, the Greater Flint Coronavirus Task Force on Racial Inequity and New York City African American COVID-19 Task Force.
In Michigan and in Flint, the racial disparity in COVID-19 cases and deaths among the African American population have been eliminated.
She is also the founding co-Chair of the Flint Community Task Force on Public Safety, a community resource and advisory body to the Mayor of Flint focused on advocating for and amplifying the voices and concerns of community, connecting community members to resources, and redefining the relationship between the community and the public safety sector.
She works with Dr. Reverend Jesse L. Jackson's Rainbow PUSH Coalition as co-chair of the health committee, Ruth Mott Foundation Board of Trustees, editorial board for the Drug and Alcohol Dependence journal and is the Deputy Editor of the journal Health Equity.
She is director and producer of the podcast, At The Forefront with Dr. Deb. She has been an outspoken advocate for health equity with numerous national media interviews with the Wall Street Journal, New York Times, Politico, MSNBC, and The Conversation.
Funded by the National Institute on Minority Health and Health Disparities (NIMHD; #U54MD011227), she directs the Flint Center for Health Equity Solutions to bring together policy-makers, community leaders and researchers to better serve the health of the Flint community. Meet her research team, the Health Equity Research Workgroup.
She also serves as the MSU founding Co-Director of the Healthy Flint Research Coordinating Center.
Furr-Holden's commitment to Flint began early in adolescence. After earning her PhD from the Johns Hopkins Bloomberg School of Public Health, she returned to the city she loves in January 2016. She immediately began working on behavioral health equity and policy-level interventions with grassroots community partners, academic partners, and other stakeholders.
Her action-oriented research is embedded with the principles and practices of Community-Based Participatory Research (CBPR). She leads health equity change in collaboration with community not "for" community. She fundamentally believes there is a seat for everyone at the table. A working list of core community partners can be found here.
She is developer of a novel observational environmental assessment tool, the Neighborhood Inventory for Environmental Typology (NIfETy). The NIfETy is a unique systematic social observation developed to measure features of the built and social environment linked to violence, alcohol, tobacco, and other drug (VAOD) exposure. Her NIfETy-based research has been used to promote environmental interventions to prevent and reduce VAOD exposure. This work is highly collaborative and has fueled a range of partnerships with researchers and policymakers across the country.
SELECTED PUBLICATIONS
SELECTED MEDIA COVERAGE
Equity Should be A Requirement (February 8, 2021; MSNBC with Stephanie Ruhle)
Michigan's Black disparities in COVID-19 closed, says health expert (January 27, 2021; MidMichigan NOW NBC255/Fox66)
The Flint Water Crisis and COVID-19 Health Disparities Share Roots in Racism and Classism (January 20, 2021; NBCLx)
Flint eliminates COVID-19 disparity among African Americans (November 12, 2020 ABC12)
JHU Race in America Series with Tah-Nehisi Coates
JHU Town Hall: On Freddie Gray
ABC News: Baltimore's Most Dangerous Neighborhoods
#StandWithUs (June 1, 2020 Youtube recording for social media distribution)
SELECTED OP-EDS
What's not being said about why African Americans need to take the COVID-19 vaccine (December 23, 2020; The Conversation)
Opinion | How Michigan moved the needle on race disparities in COVID (October 1, 2020; Bridge Michigan)
To Avoid Future Public Health Crises, We Must Address the Collateral Damage of COVID-19 (May 21, 2020; Flint Beat)
In The Eyes Of The Beholder: A Call For Radical Empathy And White Allies (February 6, 2020; Flint Beat)
Liquor stores don't belong in Baltimore neighborhoods (Jun 24, 2019; Baltimore Sun)